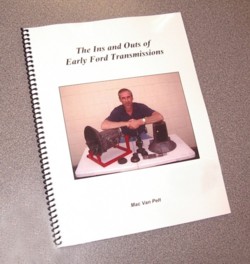 "The Ins and Outs of Early Ford Transmissions"
Covers all Ford 1932-48 passenger and all
1932-50 light truck three speed trannies.
Part #L-1001
"The Official Guide to the Borg-Warner R10
and R11 Overdrive"
Operating instructions and servicing instructions for this popular overdrive transmission.
Part #L-1003

Covers all Ford 1932-47 passenger and truck transmissions and clutches.
Part #L-1002
We specialize in parts and service for Ford three speed passenger and truck transmissions, as well as the
truck four speed transmissions manufactured from 1928 through 1959, including overdrive parts.
If you wish to order parts, use the PARTS PRICES link to check out our parts listings. Most exploded parts
drawings are available online from the PARTS DRAWINGS link. If you are interested in handling your
own repairs, check out our repair manuals available for purchase. We are located in Cincinnati, Ohio.
Please contact us before sending transmissions or parts in for repair as we have to schedule these procedures.
(800) 299-7496 (in the USA only)
(513) 724-9485 (outside the USA)
Top loader transmission, toploader transmission, hot rod transmission, Ford toploader, Ford three speed transmission, old Ford transmission, early Ford transmission,
Ford transmission repair manual, transmission manual, transmission repair book, how to repair a Ford transmission, toploader repair book, classic transmissions, classic Ford transmission, transmission parts, Ford transmission parts, rat rod transmission.
Copyright 2015 - VANPELT SALES,. LLC - All rights reserved